Why Influencer Marketing Won't Work in 5 Years' Time
Influencer Marketing Explained
Social media and video streaming services have empowered a new generation of content creators, allowing them to foster home-grown audiences outside of the traditional media ecosystem. It has not taken advertisers long to latch onto this movement, giving birth to influencer marketing and the tactics that surround it.
Although it sounds like an entirely new concept, influencer marketing strategy is partly informed by tried and tested approaches to promotion. In particular, the use of well-known celebrities to endorse products is the closest parallel to this modern movement.
David Beckham – Adidas
It is safe to say Footballing legend; David Beckham has had countless of brands approach him with the end goal of driving home more sales with a wide-spread Influencer Marketing campaign. Brands such as Adidas, H&M & Calvin Klien being the first that spring to mind.
Jennifer Aniston – Smart Water
Another Celebrity who has had their fair share of Influencer Marketing campaigns is the star of the American TV series F.R.I.E.N.D.S. In the example below we can see she has partnered up with water manufacturer Smart Water.
Lewis Hamilton – Tommy Hilfiger 
A much more recent example of Influencer Marketing is the brand new face of Tommy Hilfiger,pion Lewis Hamilton. The 62 Grand Prix winner was delighted with the announcement sharing it across his Instagram. In fact so was Tommy Hilfiger, stating "I have always admired Lewis' incredible endurance during the race, as well as his unique style off the track, which speak to the new generation of Tommy Guys".
How does Influencer Marketing work on Social Media
The key distinction which defines influencer marketing is that brands usually collaborate with creators to shape the promotional content. This gives more control to the influencers and allows them to shape their sponsored work to suit their audience.
From the perspective of brands, this type of marketing can be used to gain access to important demographics directly, without any of the usual obstacles. Social media platforms generate significant levels of engagement, allowing products and services to be advertised in ways that really connect with people
There are a number of different platforms which provide the infrastructure for influencer marketing. The most prominent examples are YouTube influencers and Instagram influencers, although other services like Facebook and Snapchat are also important.
Industries which Utilise Influencer Marketing
The biggest personalities in the social landscape can muster armies of millions of followers and subscribers, so a single post from a social media influencer can have more impact than a paid ad on any number of other platforms.
While there are many celebrities who work with advertisers to promote products through their social feeds, this pales in comparison with the true scope of influencer marketing. Its popularity has risen because a social media influencer can come from all walks of life, covering everything from fashion and photography to gaming, beauty, fashion and beyond.
Because of this diversity, it is possible for brands to pinpoint a particular niche and work with an influencer with a relevant following to optimize their marketing campaigns as much as possible. Take the example above for example; "missglamorazzi" has almost 3,000,000 subscribers. Most of which are more than likely passionate about hair & beauty and fashion. 
Influencer Marketing Campaigns That Worked
Even with these caveats to consider, a large number of companies have already grabbed a piece of the social influencer marketing pie. The quickest way to work out why is to dissect the most impactful campaigns.
According to Mediakix, influencer marketing is expected to grow to a $5 – $10 billion market by 2020.
H&M – Julie Sarinana
Fashion brands have the easiest ride when it comes to social media engagement in general and influencer marketing in particular. Industry titan H&M made use of influencers to promote its autumn catalog in 2017, leveraging a mix of bloggers and professional models to showcase its clothing lines.
She may not be a household name, but with 4.8 million followers there is no doubting the clout that Julie Sarinana brings to the table. Like many Instagram influencers, she chose to collaborate with H&M on its recent campaign because she actually liked the products that were being promoted.
The brand's own army of 24.9 million followers may dwarf that of its influencer partners, but in terms of audience engagement, it needs the support of its powerful allies on social media to maintain momentum.
BMW – Andre Hamann
Clothing makes for perfect social media photo fodder, and the same is true of stylish cars. This prompted German automaker BMW to launch an Instagram influencer marketing campaign to coincide with last year's Coachella music festival.
It ran with the #RoadToCoachella hashtag and signed up Andre Hamann to post some promotional shots with the cutting edge i8 supercar.
The results were not only a highly engaging and beneficial to BMW's brand but also matched with Hamann's status as both a model and business innovator.
ExxonMobil – What's Inside? 
YouTube has allowed brands to tap into niche markets more effectively than ever, with the help of influencers, of course. A great example is the sponsored video that oil firm ExxonMobil created in conjunction with What's Inside, an engineering-focused channel which has gained more than 5.5 million subscribers
Over the course of 11 minutes, the father-son team behind the channel work together to cut an entire engine in half. This meshes with the expectations of the target audience, while also matching the type of product that's being promoted; in this case, Mobil 1 engine oil.
Samsung – CyreneQ
Tech brands like Samsung have vast marketing budgets, but along with TV ads and online campaigns, they are still willing to experiment with influencer marketing.
Back in 2016, the launch event of the Galaxy Note 7 phablet was promoted with the help of popular Snapchat personalities, including CyreneQ. The narrative-driven nature of this platform made it particularly well suited to document the unveiling of an all-new phone.
The only problem is that the highly publicised battery issues and subsequent global recall of the Note 7 meant that all this effort ultimately went to waste.
Influencer Marketing Campaigns That Didn't Work
Alternatively, not all influencer marketing campaigns actually work out. Whether there is no clear ROI, no correlation between the brand or audience or even the influencer themselves.
So that being said, let's take a look at some influencer marketing campaigns which didn't work out.
Diamond Whites – Hidden Ads 
Often the problems with influencer marketing campaigns come not from the approach taken or the content created, but the way in which it is presented.
The Advertising Standards Authority has brought its wrath down upon a number of companies and their brand ambassadors for failing to comply with regulations governing the way paid posts are promoted. This was the case when tooth polish firm Diamond Whites teamed up with Geordie Shore cast member Marnie Simpson.
Simpson was accused of placing 'hidden' ads for several products on her Snapchat account. Luckily because the content automatically erased itself after a day in circulation, neither she nor the brand she represents was faced with anything worse than a warning from the regulator.
Pepsi – Out of Touch Marketing 
Although a more traditional campaign in many ways, Pepsi's 2017 attempt to engage with the 'woke' youth of today using Kendall Jenner as the centerpiece for a major TV ad was one of the biggest marketing blunders in recent history.
Conflating images of student protests with a fizzy drink ironically left the brand looking totally out of touch with its young target audience. Working with a reality star like Jenner only made things worse, as she lacked the ethical credibility to be associated with the ill-advised messaging of the ad itself.
In less than 24 hours of the campaign being released, Pepsi, as well as millions of others, instantly realised that the advert was well and truly out of touch and were slammed for exploiting the recent #BlackLivesMatter protests.
Snickers – Confusing Messages
Another campaign that the ASA scrutinized, but ultimately found to be compliant with its rules for social media promos, came courtesy of snack brand Snickers and former glamour model Katie Price.
Price sent out a flurry of social posts back in 2012 covering a range of topics that wouldn't normally be associated with her own areas of interest or outlook on life. She then capped this off by tweeting a picture of her holding a Snickers, with the tag line 'You're not you when you're hungry'.
While the decision to get Price to post out of character content and link this to the brand's slogan obviously looked good on paper, it didn't gain any traction. Instead, it confused fans and gained unflattering coverage in the media. Some argued that it damaged the reputation of both parties, which is probably an accurate assessment given that it's still being discussed to this day.
Unilevers – Influencer Marketing Fraud 
A very recent case study, recently released, was the call out from Unilever's Keith Weed to tackle influencer fraud. It is said that Unilever want's to take urgent action on improving the integrity, transparency, and measurement of influencer marketing. The FMCG-giants has made it their mission to take action against fake followers, bots, fraud and "dishonest business models".
In fact, Unilever has made it very clear that they won't work with Influencers who buy followers. In addition to this,  Unilever has promised that the business will prioritize partners who increase their transparency and work to eradicate nefarious practices throughout the digital ecosystem.
The Burst of Macro Influencer Marketing 
So if influencer marketing really is a bubble, what factors are most likely to make it burst over the course of the next half-decade? P.S. Do you like out GIF!
Too Much Sponsored Content 
Perhaps the biggest problem facing this industry is trust. Influencers have only risen to prominence by getting average internet users to engage with them and believe that the content they create is genuine.
There is a strong likelihood that this trust will be eroded if certain personalities suddenly start posting sponsored content. Their reliability will be diluted and they'll seem biased, fickle and untrustworthy.
49% of Users Would Trust an Influencer Less
This isn't just speculation; a survey from Captiv8 found that 49  per cent of users would trust an influencer less if they found out that brands were paying them to post advertisements on their social accounts.
This issue is exacerbated by the fact that most people find it difficult to differentiate between sponsored content and personal posts on social media. In the UK, influencers are legally obligated to tag paid content to make it identifiable.
But a tiny hashtag at the end of a long Instagram caption is usually so subtle that many users will miss it altogether. Although Instagram is trialing ways to make this clearer to followers, this makes the feeling of betrayal when it is eventually revealed that an influencer accepts payment for posts all the acuter.
The Cost of  Influencer Marketing
The sheer cost of leveraging the power of the biggest social media accounts is daunting enough in its own right, and it is still difficult to assess whether or not a campaign has been successful when influencers are involved.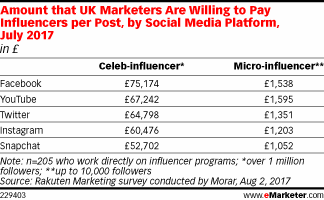 The same Captiv8 report found that it can cost the equivalent of £227,000 to get a popular YouTuber to create sponsored content to put on their channel, so long as they have at least seven million subscribers.
For a Twitter stalwart with a similar number of followers, the price of a single sponsored tweet can be around £44,000. Snapchat and Instagram content is around £110,000 a pop, while Facebook this creeps up to roughly £138,000.
Imperfect Knowledge of ROI
The amount of money that is involved is eye-watering, but because businesses and brands cannot reliably calculate the return on investment (ROI) that influencer marketing campaigns are capable of delivering, it is tough to see this approach as a viable long-term marketing solution.
Fake Social Media Followers
The final nail in the coffin for influencer marketing will be the fact that there is so much uncertainty surrounding the actual power that social media hotshots wield. This comes down to the fact that follower numbers can easily be inflated by fake accounts.
This immediately knocks out a huge swathe of the audience that any influencer can muster on this platform. Meanwhile, 66 percent of the social shares that are generated each day were found to come from bots, not genuine users. So even if you can get a precise figure for how much a piece of content is viewed and distributed, a significant slice of this needs to be ignored.
From faltering levels of user trust to ever-growing costs and untraceable impact, I believe large-scale macro influencer marketing is a fad that has had its time in the sun, possibly resulting in it's death in the next 5 years. Its current prevalence is unsustainable for all of these reasons and many more; it just might take a while for brands to wake up and smell the ashes.
Fortunately, I don't think influencer marketing will be dead in the water completely. I'd like to think brands will become a lot smarter and realize Micro Influencers are the way forward when marketing their products and services to their targeted audience.
A Micro Influencer is someone who possesses a social following of 3,000 – 15,000. Whether this is on Instagram, Twitter, Facebook or Twitter. Each Micro Influencer operates within his/her niche which has often came from an area of passion.
Three Key Stats
60% higher engagement
Underpriced (6.7X more cost-efficient per engagement)
22.2% more weekly conversations than the average consumer.
Examples of Micro Influencers – Football Graphics / Football Design
Finding examples of Micro Influencers is easy! Simply find a niche or an area of interest which suits you and find those tweeting / sharing / posting within the industry.
For example, if we take Football. Okay, this might be a little biased as this is actually me – however here we have a Twitter account with over 7,300 followers solely based around Football Design and Football graphics. 
The WordPress Bloke has over 7700 followers and has built up an audience around providing tips and tricks for enhancing the security of WordPress websites. As his bio explains: Digital innovator. Strangely obsessed with WordPress Security and Performance, maybe because no-one else is, but fast secure websites are good for business.
How to find a Micro Influencer on Instagram? 
If we were to take a look on Instagram for a micro influencer, we would simply have to enter a relevant hashtag such as #Fashion or #FashionBlogger and choose a post with a high volume of engagement and likes.
From the post highlighted we can see that it has over 900 likes and 24 comments. Which is a fairly decent engagement rate. 
Perfect! From the above post, we have found an Instagram influencer specializing in lifestyle & fashion. This influencer has over 20,000 followers with an average post engagement rate of 1,200. 
The Future of Micro Influencers
With distribution and engagement becoming more accessible,  marketers are beginning to notice the effectiveness of amateur content creators and because of this the questionable value of mainstream influencers.
Social media is giving everyone the ability to effectively 'influence' hundreds/thousands of people. Brands are looking farther and wider for creative and distribution channels with smartphones matching the capabilities of DSLR cameras and editing software.
In the next 5 years, advertising will shift into groundbreaking territory. The question remains, will large brands capitalize on this up and coming micro influencer boom.
Lets Summarise…
Over the last three years influencer marketing for both brands and influencers has performed fantastically well. With a return of approximately £7.20 for every £1 spent with influencers, it is no surprise companies such as ASOS & Gymshark, amongst many others, have opted for this fairly simple marketing strategy.
The fact that large brands are willing to pay out hundreds of thousands of pounds for a YouTube collaboration clearly demonstrates its success and influence on sales. However, like most marketing strategies, all good things must come to an end. The influencer marketing bubble is set to burst, and its downfall might come sooner than you'd think.  
I'm not suggesting"influencer marketing will fall off the face of the earth and be banished into non-existence". As large brands have done for many years, working with celebrities to successfully endorse products will continue to be a viable marketing strategy. 
What I'm arguing is that due to the continued strengthening of laws around influencer ads, and a lack of a clear way to assess ROI, this market will inevitably shrink. It's becoming much harder to identify the real influencers, with a genuine fan base, as opposed to the everyday individuals who are simply posing as influencers with an army of mindless bots artificially boosting their follower numbers.
Further Reading on Influencer Marketing